Pregnancy is a beautiful journey. As beautiful as it is, it can put a lot of stress on mom-to-be both physically and mentally.
When you're pregnant your first priority is keeping the baby safe and healthy. When you're thinking about keeping your baby healthy, are you including yourself as well?
Did you ever hear the phrase that in order to help others you must help yourself first? Put on your oxygen mask first?
Your health and well-being matter immensely during pregnancy. Your body is going through major physical and emotional changes for 9 months (and more after birth). It's important to keep yourself healthy and well to promote optimal health for the baby.
We understand that it's hard to focus on your life when you're growing your family and literally creating life, but it's vital to both yourself and your child to have proper care throughout your pregnancy. That's where pregnancy chiropractic care comes into play.
Pregnancy Chiropractic is Beneficial
Did you know that more and more women each year are seeking help from their chiropractors during their pregnancy?
50% of women experience back pain during pregnancy and that pain is simply regarded as "common" or "typical." However, just because you're pregnant doesn't mean you have to have back pain.
While your body is adjusting and rearranging to grow a human being you may just deal with the pain and move on. But that shouldn't be the end result. You deserve relief and ease of tension and pain as well.
Pregnancy chiropractic is beneficial because it keeps both mom and baby safe and provides a way for mom to feel better and have a smoother pregnancy.
Adjustment Process During Pregnancy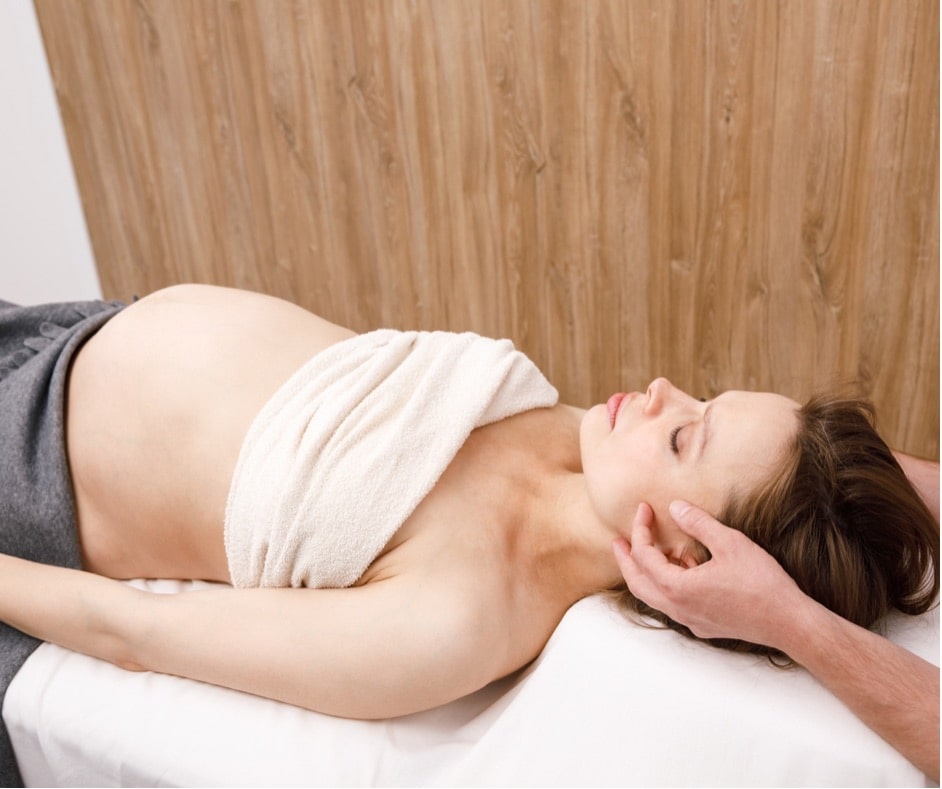 When you come into the office for an adjustment you may think that the chiropractor is going to pull, pop, flip and move you all around, but that is not the case.
Experienced and knowledgeable chiropractors utilize the Webster Technique for pregnant women. We discussed in detail how pregnancy chiropractic is different than traditional chiropractic in a previous article. That article breaks down exactly what the Webster Technique is and how it helps women during every phase of pregnancy.
The technique involves light adjustments to the sacrum, gentle massage of the round ligaments, and relief of tension in the spine, lower back and hips to help with comfort and pain.
In summary, the Webster Technique is a gentle, more precise way to adjust women during pregnancy. This technique is also used on newborns and infants as well. Read our latest article, "Why Pediatric Chiropractic Care is Good For Children" for more insight!
Benefits of Chiropractic Care During Pregnancy
Every woman and every pregnancy is different which means their pregnancy chiropractic care outcomes can also differ. However, it has been seen that pregnancy chiropractic is beneficial for a multitude of reasons.
Here are a few of those benefits-
Pain relief
Muscle and tension ease
Providing better space for baby in the womb
Allow proper alignment for birth
Decreased chance for breech
Decreased length of labor and delivery
Morning sickness relief
Improve nervous system function
Ease or pregnancy symptoms (insomnia, reflux, swelling)
Improvement of fetal position
Promotion of an overall healthy pregnancy
Want to Experience the Benefits?
If you're interested in receiving chiropractic care during your pregnancy and are searching for "Chiropractor near me Coeur d'Alene" you can stop your search and come visit us here at First Steps Chiropractic. We provide chiropractic care for the whole family! To learn more about First Steps and what we can do for you, give us a call and browse our website.
We look forward to helping you live your best, healthiest life!